Whether you drive a car, motorcycle, RV or heavy truck, accidents happen which is why you carry insurance. But unless your vehicle is covered by an Agreed Value policy, the amount you'll be paid if your car is deemed a total loss is entirely up to the insurance company. How does an insurer determine the value of your vehicle? And, how can The Appraisal Clause help to solve disputes? What is the Appraisal Clause in an auto policy? How do you invoke the Appraisal Clause and what is the procedure?
TELEPHONE CONSULTATIONS ALWAYS FREE-OF-CHARGE
Typically, most large insurers use outside vendors such as CCC, Carfax, VVS, Autosource or Mitchell which allows them to input your automobile's information such as year, make, model, mileage, engine, options, etc. There is also a section that enables the insurance appraiser to make additions or subtractions for mileage, optional equipment, old damage and conditioning issues. Then the primary factor in the valuation is the use of comparable vehicle sales or auction results to determine how much your car is worth.
Unfortunately, an insurance appraiser can be selective in which comparables to use. Many times, we'll find that the examples don't quite measure up to your auto. Common search terms used to reach our site include improper CCC total loss value, Mitchell vehicle valuation report complaints, biased Autosource car value and incorrect VVS valuation report.
Some interpretations include choosing vehicles with much higher miles and making costly mileage adjustments. This practice can lead to skewed results that don't accurately describe what your low-mileage car would have sold for prior to the wreck. Another common practice is to limit the geographical search area, thereby reducing the number of comparable vehicles. An additional problem occurs when the insurance appraiser uses dissimilar vehicles to yours. Yet another common drawback is the insurance appraiser's failure to recognize specialty vehicles, such as diesel pickups, that hold their value better than others.

What recourse does a car owner have when faced with this situation? You could simply accept the lower settlement figure. Another option is to hire an independent appraiser to prepare a fair and objective valuation appraisal that accurately reflects your car's true pre-accident value. This can be tricky so it is best to do your due diligence and research the company before hiring. Do they have poor reviews in online sites such as BBB, Angie's List, Ripoff Report, Pissed Consumer, etc.? Also, does the appraisal firm work for insurance companies in addition to private parties? These conflicts can cost you more than just a few dollars since insurance clients may represent the majority of their business. It isn't unusual for an independent appraiser to target the adverse insurer as a potential client.
Best case scenario is the insurer accepting your appraiser's report. If not, most states recognize the "Appraisal Clause" whereby the appraisers from both sides try to negotiate a fair settlement. A typical compromise is the median of the values arrived at by the respective appraisers. Other times, however, when no agreement can be reached, the appraisers both offer candidates to act as an umpire. This entails an additional cost which is borne by both you and the insurance company. In the event that neither side agrees on a suitable umpire, one will be chosen by a magistrate in your county. The decision of the umpire is non-binding, however, and you can still choose to litigate.
The business model of all insurance companies is to charge as much as they can in premiums and to pay out as little as possible in claims. Keep this in mind when you receive the settlement offer for your total loss vehicle.
Additional fees you may incur are $125.00 for our representation in Appraisal Clause negotiations.
READ CUSTOMER REVIEWS OF THE ST. LUCIE APPRAISAL COMPANY
REQUEST AN AUTOMOBILE VALUATION APPRAISAL – $275.00 for most cars.
RV AND HEAVY EQUIPMENT OWNERS PLEASE CALL FOR RATES.
Before making your payment, please email the insurance company CCC or other work sheet to contact@stlucieappraisal.net
Don T (California)- Thank you for your services. I am happy with the total loss valuation appraisal and feel the valuation to be true. When I drive to Tesla supercharger stations, none of the other Tesla's stand out or is as nice as mine, and I get that comment all the time from Tesla and non-Tesla owners. It was my perfect dream car and is irreplaceable. You just can't put a price tag on something like that. So it's very insulting when Geico and CCC tries to value my car at such a ridiculous amount. So thank you for your great work and I will definitely be leaving you great reviews. Franklin was very helpful and extremely knowledgeable. He took his time to explain the process and what I would be expecting before I even hired him. I felt very comfortable working with him and couldn't be more happy with his services. If you had a car that you loved and cherished and is irreplaceable, and you want to make sure it gets appraised at the right value even though you can't put a price tag on it…then Franklin and The St. Lucie Appraisal Company is your go to appraiser. Thanks Franklin!
Gino B (Washington)- I know firsthand that if you are reading this testimonial – you've had some car problems (stolen, damaged, accident, etc.) You are probably in the right spot.
When my truck was stolen and recovered (with a lot of damage), my Insurance company (USAA), who I thought would be there for me when the chips were down made me a really low-ball offer. After some simple internet searches – it seems USAA has a habit of letting down their insurance customers.
I was pulling my hair out battling it out with USAA's lowball offer until I found Franklin's St. Lucie Appraisal team. Franklin quickly assisted me in understanding my rights, my options and provided expert advice and engaged with all parties as my representative in the appraisal process resulting in an award letter almost 3X higher than USAA's initial low-ball offer. 3 TIMES HIGHER!
USAA initial offer was about $5K – Franklin was able to negotiate with other appraisers and get me a fair Actual Cash Value of $15K through the process. The juice is definitely worth the squeeze folks.
He was consistently available, professional, friendly, and considerate and took the time to understand my claim and help ensure I take the steps that were right for me. Before you go anywhere else – drop his team a line – you will be glad you did.
Service in Alabama, Alaska, Arizona, Arkansas, California, Colorado, Connecticut, Delaware, Florida, Georgia, Hawaii, Idaho, Illinois, Indiana, Iowa, Kansas, Kentucky, Louisiana, Maine, Maryland, Massachusetts, Michigan, Minnesota, Mississippi , Missouri, Montana, Nebraska, Nevada, New Hampshire, New Jersey, New Mexico, New York, North Carolina, North Dakota, Ohio, Oklahoma, Oregon, Pennsylvania, Rhode Island, South Carolina, South Dakota, Tennessee, Texas, Utah, Vermont, Virginia, Washington, West Virginia, Wisconsin and Wyoming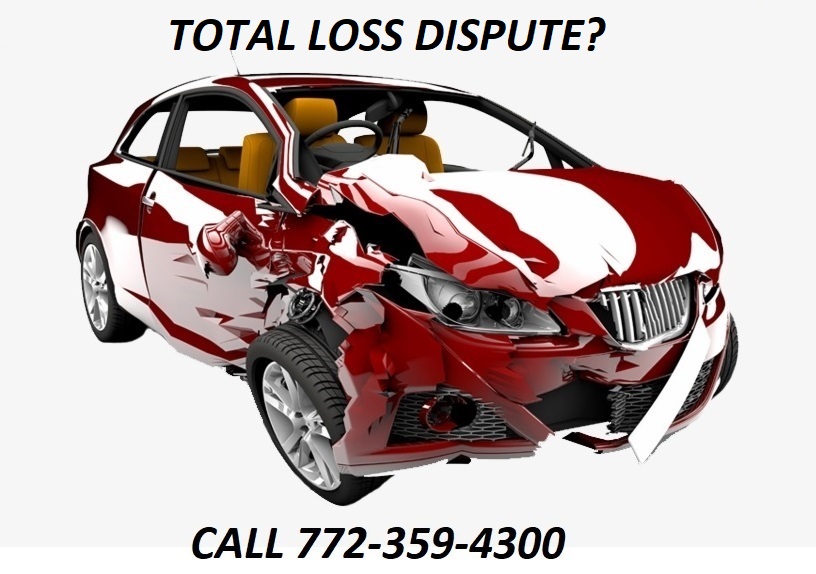 TOTALLOSSDISPUTE.COM is a service of The St. Lucie Appraisal Company
This is an Open Education Resource focused on automobile total losses, the appraisal clause, collective knowledge and the sharing of scholarly content.
READ MORE ARTICLES…